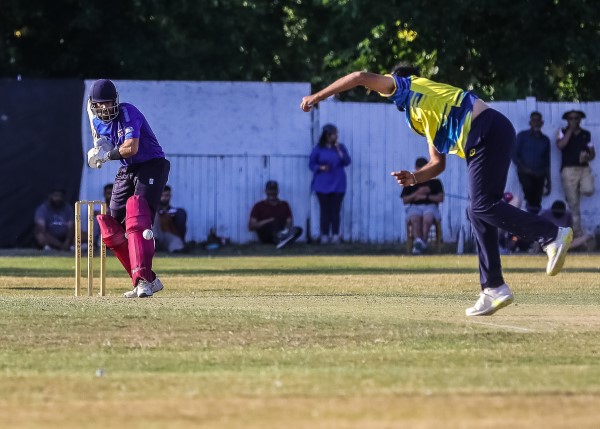 Shivam Bhambri on his way to top scoring 71 (53 balls SR 134)
Picture by Matt Davenport photgraphy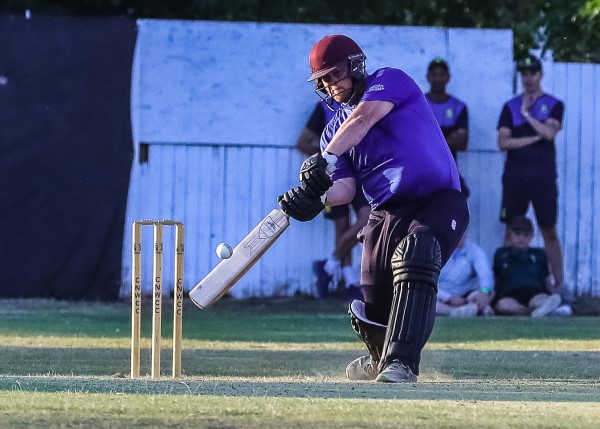 Paul Smith launches one over long off in his 29 no in just 16 balls
Picture by Matt Davenport photgraphy
For the first time in years, thanks to the vision of Paul Farbrace, Director of Sport at Warwickshire County Cricket Club, the people of Coventry got to see the county side play in their own parish.

A team including many first team squad members from Sunday's 50 over tie against Surrey spend the day with local kids , showing them the basics and fun of cricket, before the main event started.

Warwickshire County Cricket League select XI captained by Owen Edwards from Rugby CC won the toss and decided to put the Bears in to bat.

Opting with guile rather than pure pace , at one end, Alex Roslyn ( Solihull Municipal) bowled a tidy opening spell. Using his pace well at the other end, Sameer Vohra (CNW) restricted the Warwickshire openers until Matt Lamb cut loose, but it was a quick fire 31 as Archie Walker (Stratford) claimed the wickets of Lamb and Hamza Sheik in consecutive balls. Walker claimed the wicket of Balaji to finish with 3-49 , 3 critical wickets after an expensive first over. Paul Smith (Castle Bromwich) bowled some miserly spin to finish with 2-15 off three overs as only captain Will Rhodes 46 and Manraj Johal 31* added significant scores.

With a target of 143, openers Ollie Thomas (Moseley Ashfield) and Shivam Bhambri (CNW) reached 41 before Matt Lamb removed Thomas. Wes Landsdale (Rugby) then joined Bhambri and took us close to the total before holing out at long off to Lamb for 22.

Paul Smith entered supported Bhambri before he holed out for 71, leaving Smith and Gary Hawkins (Olton) to close the victory with some great hitting and intelligent cricket. Smith's cameo was worth 26*, off 16 balls (181 strike rate, 1 six, 3 fours) and Hawkins finished 8*

In the final over a great show of sportsmanship by the Warwickshire player who accidentally obstructed the running batsman, Rhodes the Warwickshire captain declined the appeal for the run out, showing how cricket should be played, competitive and in the right spirit.

Great support from the County club with the whole coaching and leadership team present from Club and Board. A big thank you to Andy Wyles from the Cricket Board for his continued support of grass roots cricket. Well done to our league side and special thanks to David Woakes who put the side through a decent warm up in 30 degree heat, and to our League Sponsor JD Tours and kit provider, local supplier Andy Blair Sportswear.